California Psychics: Overview
California Psychics has been around for an impressive 25 years and their broad selection of psychics speak to their solid reputation. However, is having a sound reputation enough when you need answers to life's big questions.
California Psychics' unique 3-tier pricing system and attractive rewards program is just some of what makes this site a top choice.
In this review, I will be looking at whether the readings offered by California Psychics can be trusted and how they differ from other popular sites such as Keen and PathForward. 
Types of Readings on California Psychics
The spiritual advisors on California Psychics offer readings via phone and chat, but not all readers offer both options. If you would prefer a more anonymous reading, a phone reading is ideal. These are the main types of readings available on the site.
Love & Relationship Readings
There aren't as many psychics who offer career-related readings, but you still have hundreds to choose from. The majority of the psychics in this category have performed thousands of readings and there's a good mix of premier and middle-tier psychics to choose from. With career readings, you ideally want a psychic who is straightforward, which is why I value the fact that each psychic profile mentions the reader's style.
Life Path Reading
I haven't come across many sites that offer this specific reading. These readings focus specifically on your destiny and current life path, helping you take positive steps in the right direction. Most of the psychics in this category work with tools such as numerology, oracle cards, and pendulums.
Money Readings
Money and finances can be a delicate subject, so consulting with an experienced psychic is best. Fortunately, there are a number of options to choose from, many of whom also offer career-related readings, which makes sense considering the two are so closely related. The available psychics are a good mix of premier, middle, and lower-tier psychics –  ideal for all budgets.
Other Categories
The above readings cover the questions that most people have, but there are a few extra readings you might want to take advantage of.  
If you need help understanding your pet on a deeper level or want to find out whether they're experiencing stress and anxiety, there are over 50 psychics who can assist you. This is another unique reading that isn't offered on many other psychic sites.
For those who believe in past lives and want to know more about how they're impacting the present, there are 80 psychics who specialize in this reading. Most of the psychics in this category are premier readers, so expect slightly higher fees.
Connecting with deceased loved ones can bring closure and there are over 100 psychics who can assist with this on the California Psychics site. These clairvoyant psychics all have a star rating of 4.5/5 or higher.
Lastly, there are also a handful of psychics that deal with lost objects and missing persons – it's rare to find these types of readings on other sites. 
How to Use California Psychics
The California Psychics site offers both desktop and mobile readings via their app, which is available on Android and iOS devices.
The California Psychics website is very detailed, but fortunately, easy to navigate. Users who are new to the site can take advantage of their introductory offer of $1 per minute – you need to create an account though.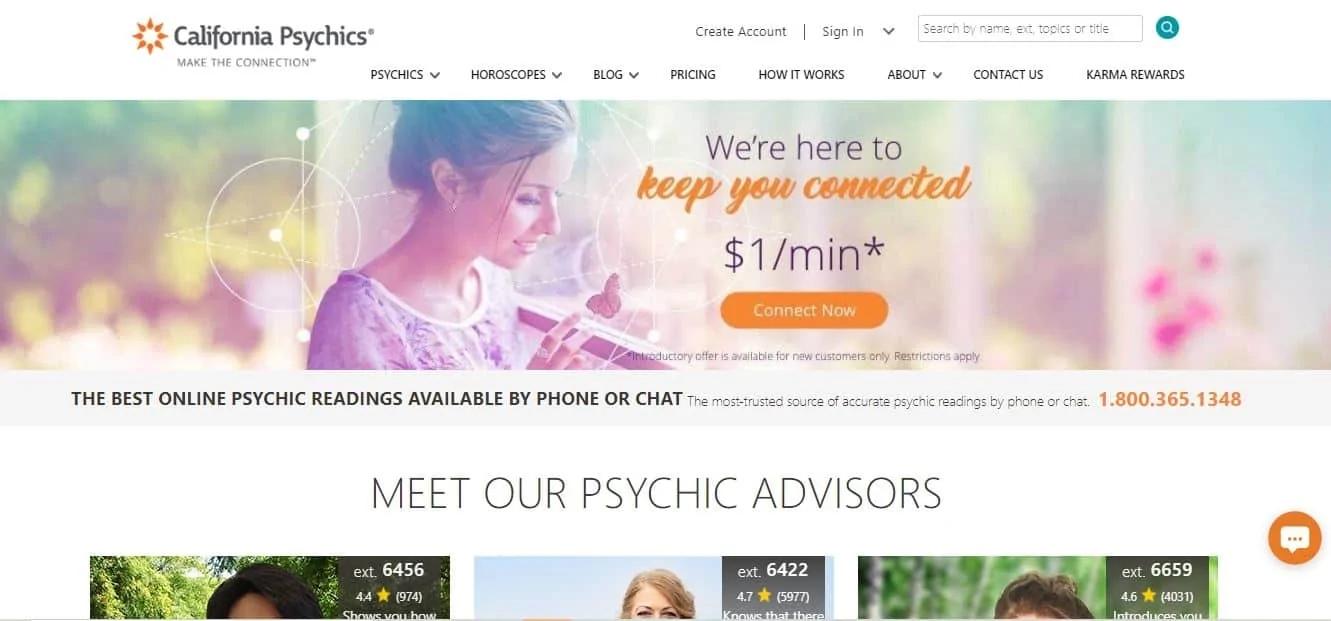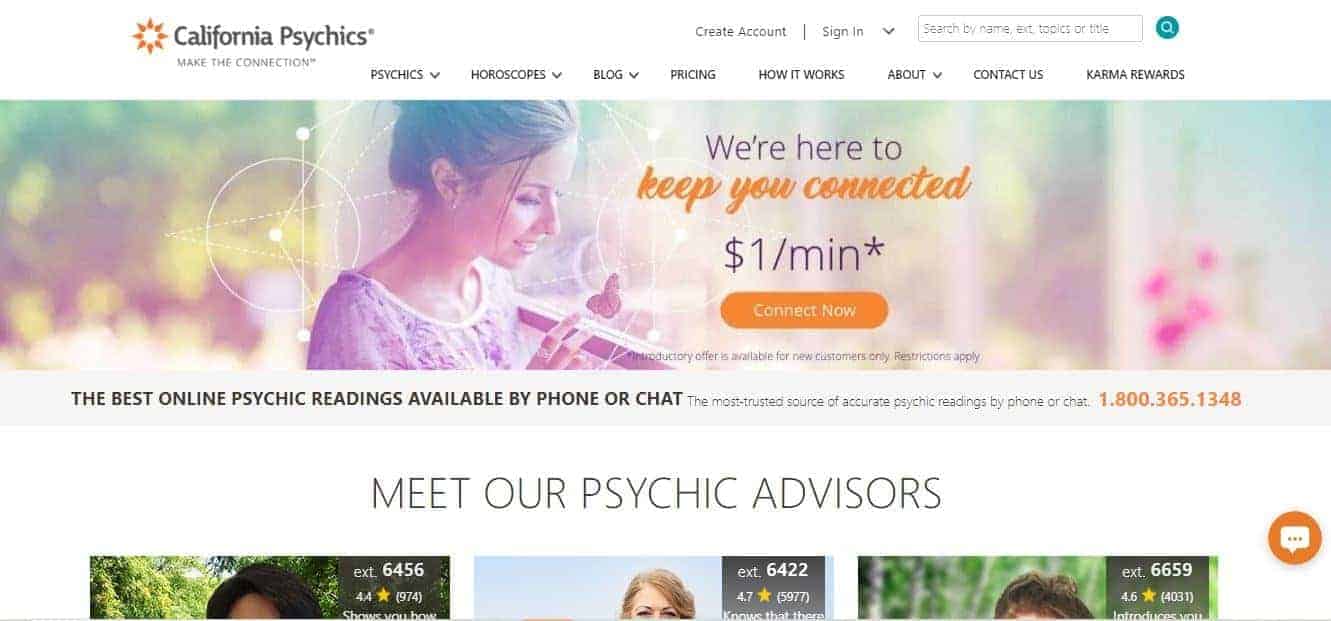 The sign-up process consists of three steps, the first of which requires some personal details such as your name, email, and date of birth. It's not entirely clear what you're signing up for when you're first taken to the sign-up screen though.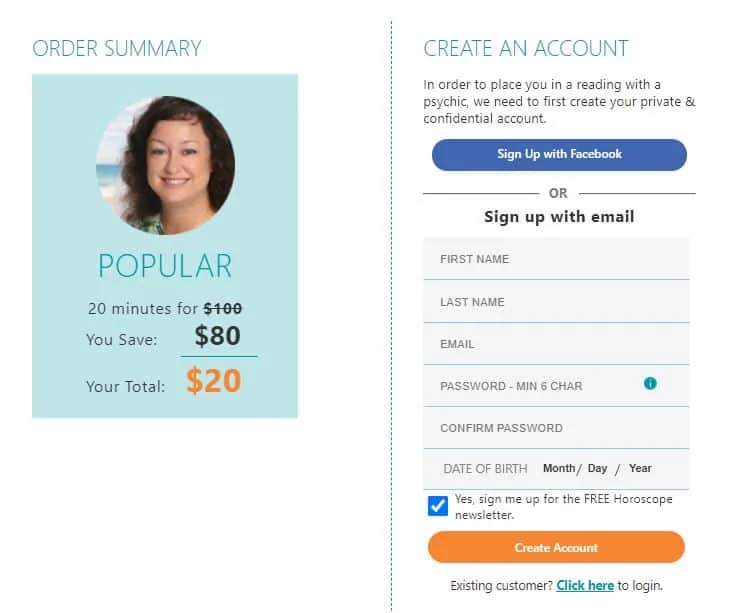 Here's what you need to know. When you sign up, you're automatically signing up for their Preferred package, which is $2 per minute. You will need to sign up for a 20-minute psychic session though, hence the $40. The Preferred package is their middle-tier package (more on the pricing later).
What's also slightly confusing is that they seem to allocate your order to a specific psychic, even when you haven't chosen a reader yet. Fortunately, you can choose your preferred psychic once your order is complete.
To complete your order, you will need to provide your credit card or PayPal details. You can also ask their customer service department to call you back to complete your payment.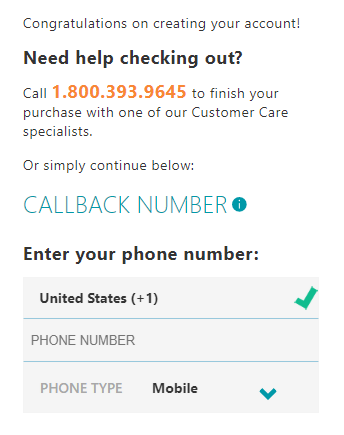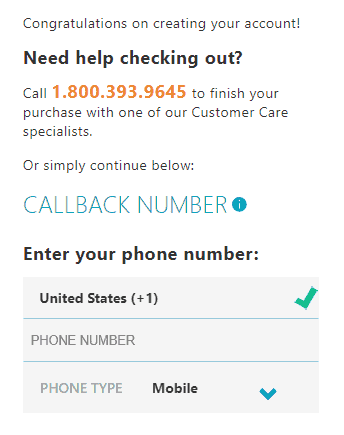 Once your order is processed, you can choose a reading and psychic. You can also decide whether you want a reader to call you or if you would prefer a chat window.
The site's filtering options are beyond impressive. You can get really specific about who you want to talk to. Filter your search according to reading topics, tools and abilities, reading style, and more.
Each psychic has a detailed profile that you can review before you set up a reading. Find out more about their style, abilities, and the tools they use. You can also read through reviews from past customers to decide whether they're the right fit for you.


I like fast and accurate readers, especially when I'm paying by the minute!
Needless to say, I thought the reviews were very informative. They helped me get a really clear idea about which psychic was right for me.
Each psychic's profile has a calendar that you can use to schedule an appointment should you not want to wait for a call or chat slot to open up.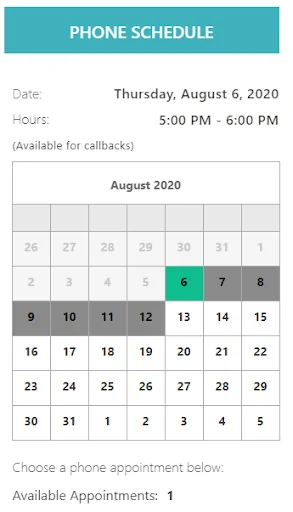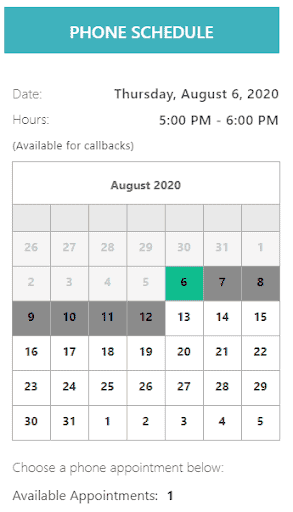 Once your introductory minutes have been used up, you will need to top up your account before your next reading. Existing customers need to pay anything from $4 to $15 per minute for readings. Unfortunately, you can't top up your account during a reading, which is a feature that sites like PathForward have.
Is California Psychics Trustworthy?
Trustworthiness is a natural concern when you haven't used psychic services before.
Psychic Screening
One way that California Psychics offers peace of mind is through their rigorous screening process. Prospective psychics must go through a month-long, 4-step process to determine whether they're a good fit for the site.
This process is said to be so intensive that only 2 out of every 100 psychics who apply are accepted.
During the first stage, psychics are required to list details on their skills and experience. Thereafter, they need to pass two evaluations and a background check. Once they pass this stage, they are asked to submit material for their profile and complete an online training program that's specific to California Psychics.
Reviews
Once you sign up for a reading, you can also browse through reviews from past customers to determine whether a psychic is the right fit and can be trusted. It's always recommended that you read through several reviews before you schedule a call.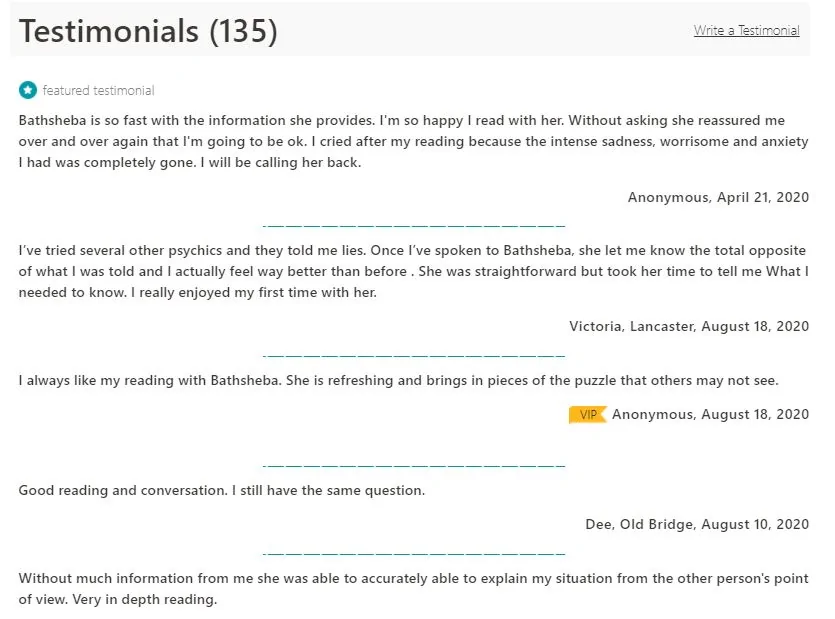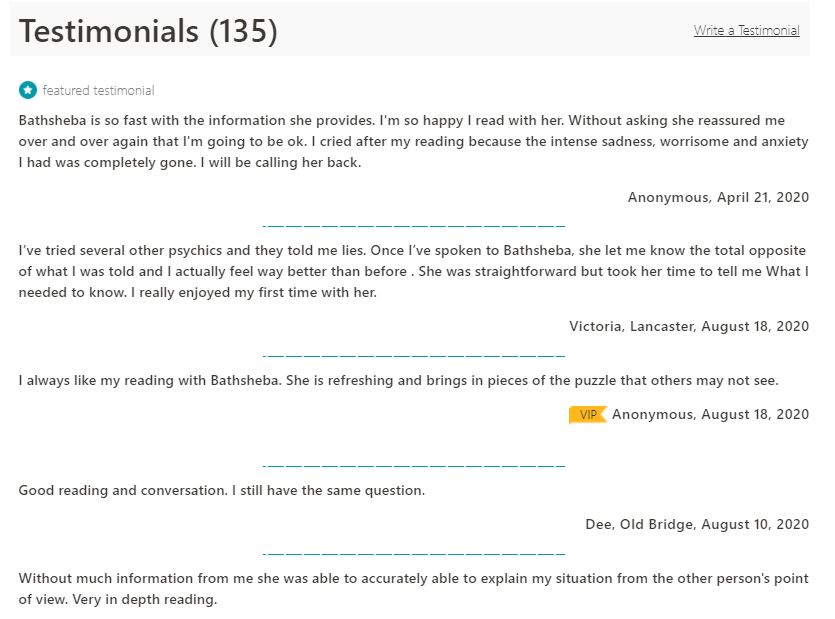 100% Money-Back Guarantee
Lastly, there's also their 100% money-back guarantee. If you're not happy with your reading, you can get in touch with their customer service department and they will connect you to a different psychic. It has to be within 24 hours though. If you take a closer look at their terms and conditions though, you will see that this guarantee can only be used once per customer.
The fact that California Psychics has been around for over two decades and has a strict screening process does indicate that the site can be trusted. They also provide several contact numbers for customers from different countries should you need to get in touch with their customer service department.
California Psychics Pricing
When you first sign up on the California Psychics site, you can choose from one of three options.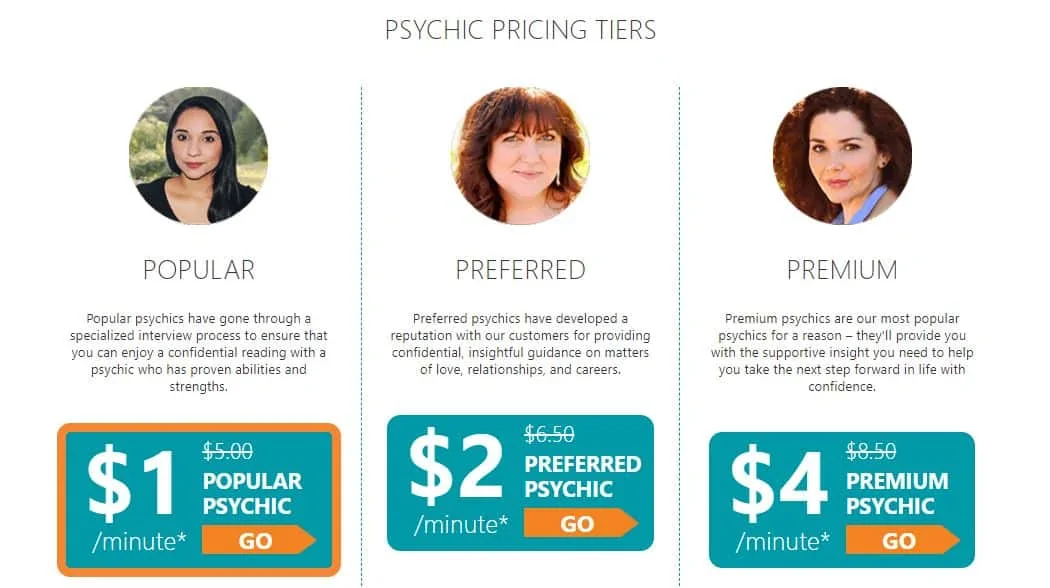 If you don't select a specific package, you are automatically signed up for the Preferred package. You do have to pay for a 20-minute session regardless of the package you select though. So, for the Preferred package, your first payment would be $40 for a 20-minute session.
Once you've used up your introductory minutes, there's no standard cost per minute – you simply top up your account with as many dollars as you want to. Psychics charge anywhere from $4 to $15 per minute for readings, so you would need to decide how many credits you want to add to your account.
Reading fees are calculated based on full-minute increments. At the end of each reading, your total will round up to the next full minute. If you choose a chat reading, fees are calculated on a per-message basis.
Based on California Psychic's history and their strict screening process, there's no reason why they can't be trusted. However, it is a pity that their money-back guarantee is only valid for one use per customer.
If you're looking for a standard psychic reading related to love, career, or life's big questions, this site is a good pick. If you're looking for something a little different, there are also psychic pet, lost objects, and missing person readings to choose from – something you don't often find on other sites.
Besides the slightly confusing sign-up process, the site and app are easy to navigate. Their psychic profiles are also very detailed, an area where other sites tend to fall short.
The reading fees are not above or below the industry average, which means they cater to different budgets. Because the site charges per message for chat readings though, you may want to choose a phone reading if you want to save on costs.
If you're looking for a wide selection of psychics and would like to take advantage of an attractive introductory offer, I would say give California Psychics a try.