7th Sense Psychics Review (2021) — Better Than the Rest?
7th Sense Psychics is the kind of site you go to when you need instant, on demand psychic guidance over the phone. It's different from competitors like Oranum and Kasamba because instead of trying to do everything well, 7th Sense really focuses on doing one thing really well— phone readings.
7th Sense Psychics does have limited functionality. However, if phone readings are your thing, this site is worth checking out. Let me take you through my thoughts on this site, so that you can decide for yourself.
Types of Readings on 7th Sense Psychics
Here is where 7th Sense Psychics really lags behind its competitors. Unfortunately, there's no way to filter psychics according to reading type. To figure out a psychic's specialities you have to click on each individual profile.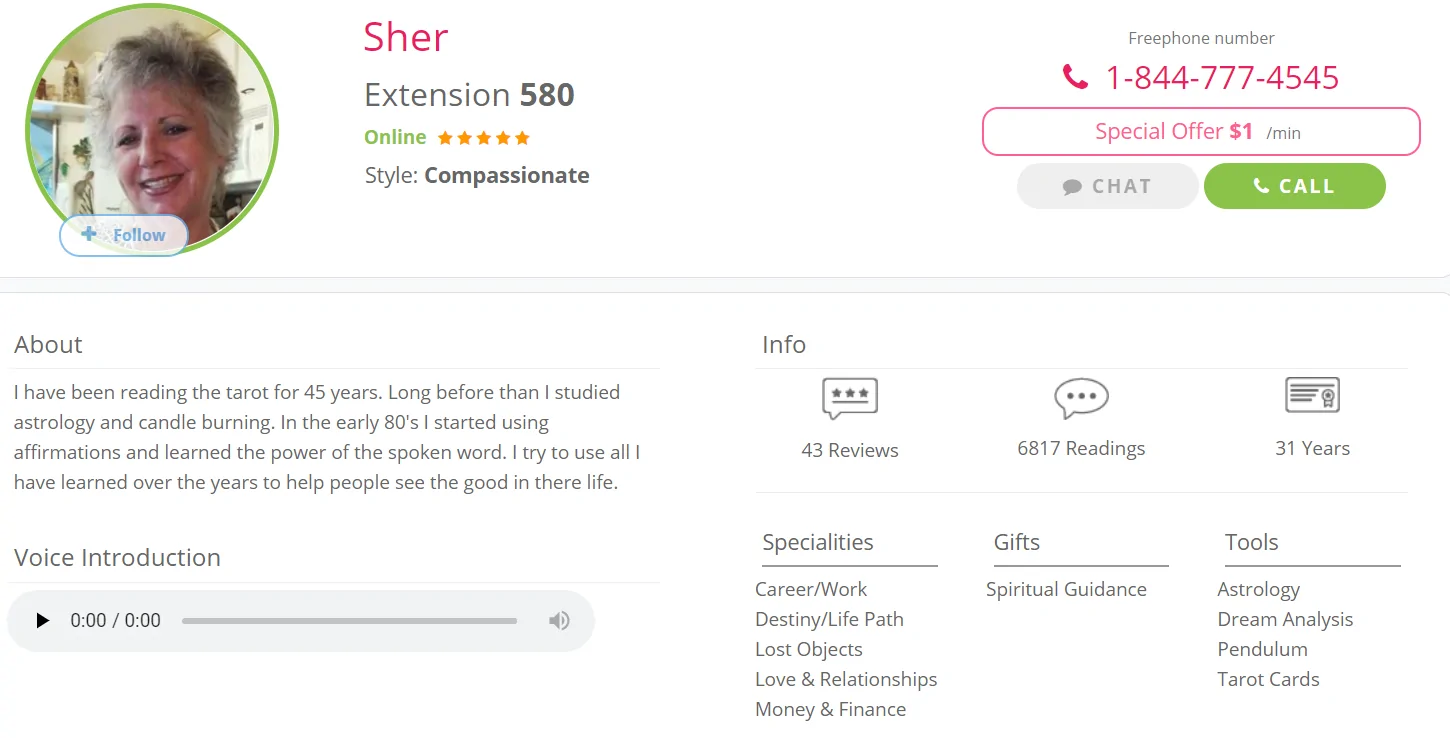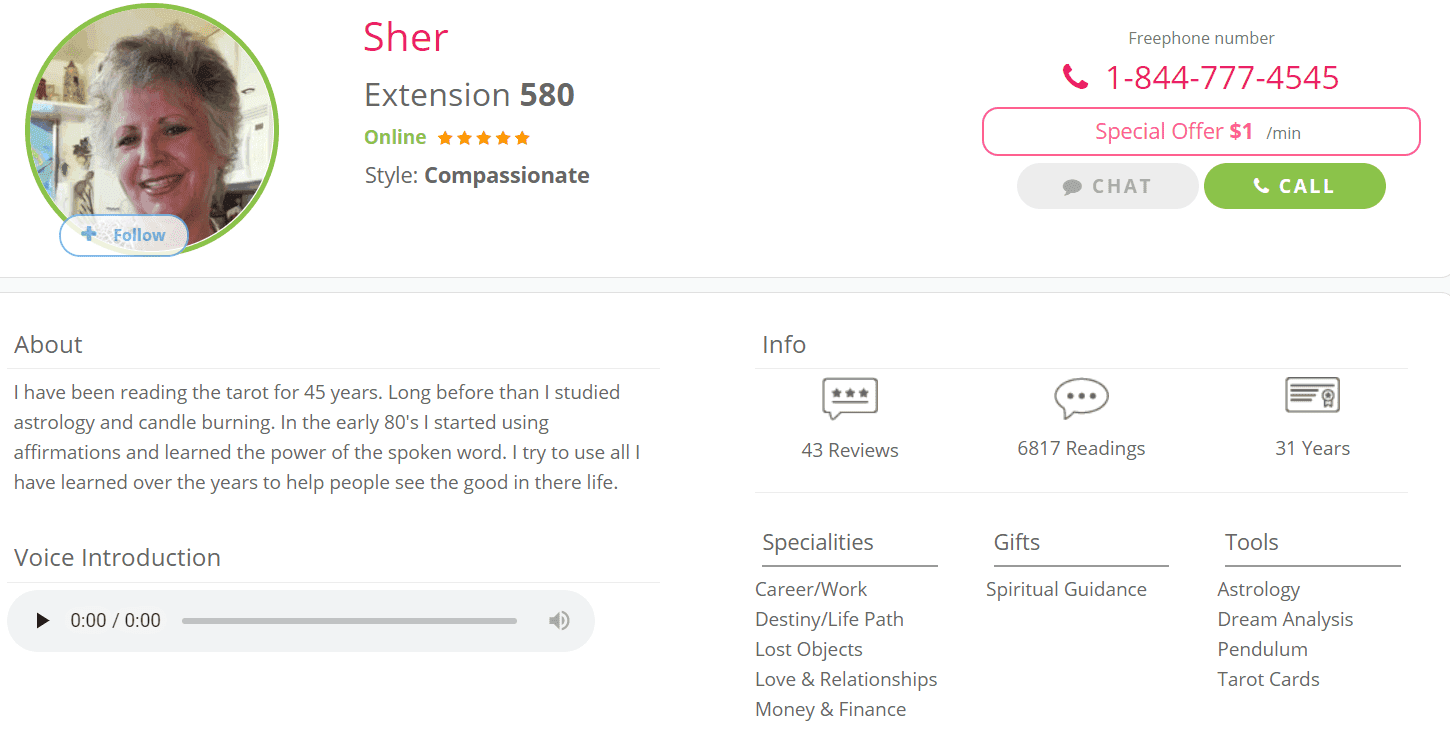 I did some digging and found that nearly every psychic on 7th Sense lists tarot cards under their Tools section. It seems to me that this might be a prerequisite for psychics.
When 7th Sense screens their psychics, they likely make a point of choosing readers who know how to work with tarot cards. So, if you're someone who loves tarot, then I would definitely recommend this site to you. At virtually any time of the day, you'll find an available psychic who specializes in tarot who can take your call.
Aside from tarot, there are a few other specialties to choose from. Most psychics also specialize in Spiritual Guidance, Clairvoyance, Astrology, and Dream Analysis. Unfortunately, you won't find the same vast selection of abilities that sites like Oranum offer.
There is the odd psychic that offers something unique, including pets, deceased loved ones, destiny, and career readings. But for the most part, it seems like 7th Sense has established specialties, gifts, and tools that psychics can list on their bios, and they don't allow for the variety that other sites do.
How to Use 7th Sense Psychics
Signing up with 7th Sense Psychics is easy and straightforward. You don't need a credit card to join, and you can start browsing psychic profiles right away. One thing that sets 7th Sense apart from its competitors is that each psychic has uploaded a pre-recorded message for clients to listen to. This is a great way to get a sneak peak of what a reading might be like before entering a paid call.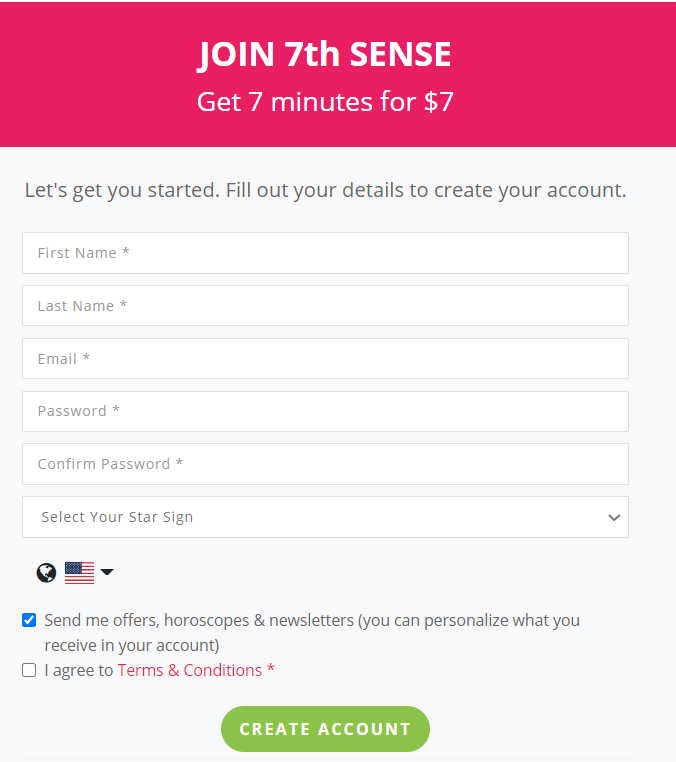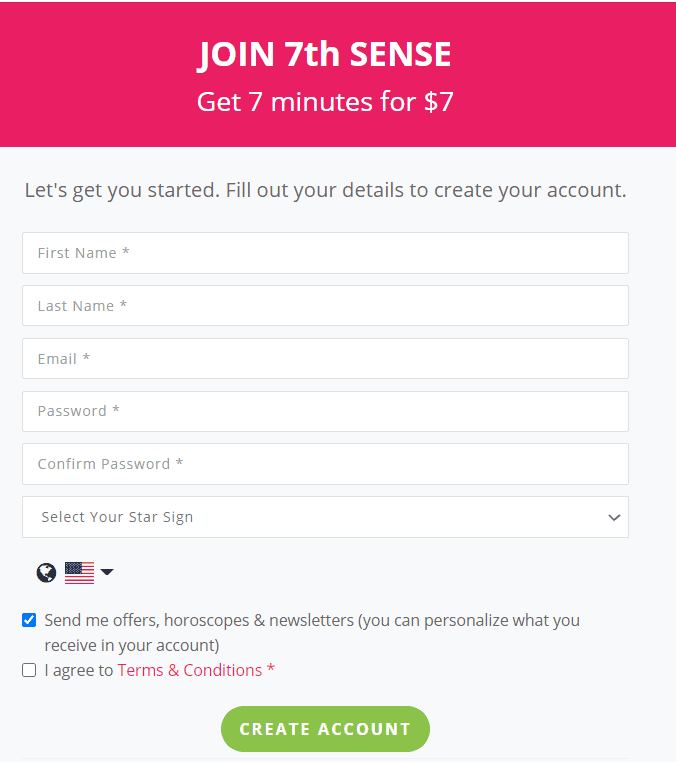 As I said before, 7th Sense lacks some basic functionalities. You can't filter psychics by ability, and there's no search bar to find psychics by name. The psychics displayed at the top are the ones who are available at the time of your search.
Unfortunately, once you find a psychic you like, it won't be easy to find them again, especially if they are offline. Offline psychics are moved to the bottom of the page.
I recommend you hit Follow the moment you find a psychic you like. The Follow feature is convenient because it sends a text to your phone when your psychic becomes available.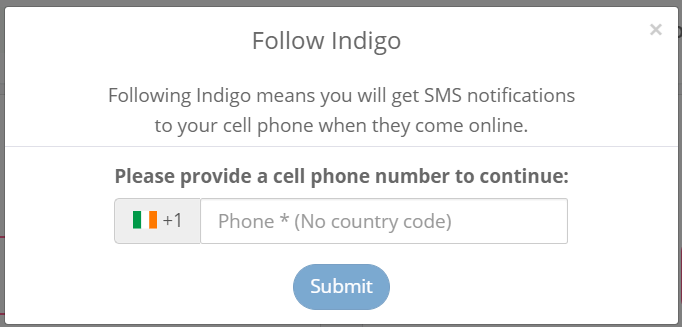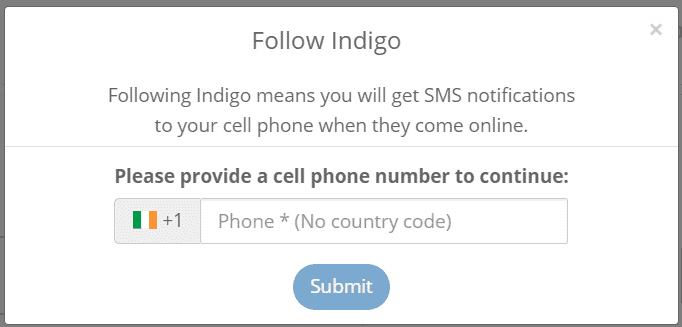 While phone readings are the main offering on 7th Sense, a handful of psychics also offer chat readings. 
To join a phone reading with a psychic, simply add minutes to your account, dial the website's main phone number, and enter your psychic's extension. Because you're paying by the minute, I highly recommend preparing a few questions before calling your advisor.
You should also keep in mind that if you run out of minutes while on the phone with your psychic, the call will disconnect. You'll hear a warning message when you have one minute left. Unfortunately, you can't top up while on the phone though.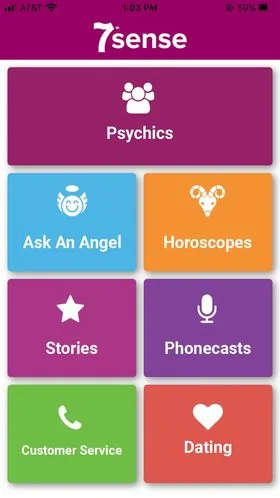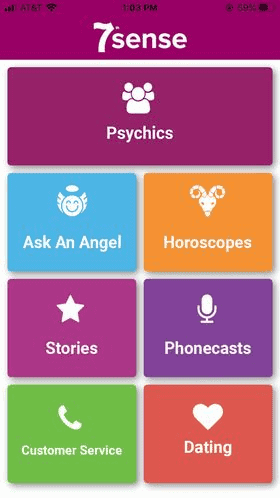 7th Sense Psychics also has an app you can download that has some extra features. Keep reading to learn about the app's Ask an Angel feature below.
Is 7th Sense Psychics Trustworthy?
According to their site, 7th Sense has been around for over 15 years. The site also boasts a rigorous psychic screening process of their psychics and gives each advisor a contract. This ensures customers are always receiving the best experience.
I always appreciate it when a site offers a 100% satisfaction guarantee, and thankfully, 7th Sense does. If you email their support team, they will respond within 24 hours. The thing that concerns me though is that their contact form has no dedicated option for requesting a refund.
That being said, 7th Sense also offers you the chance to contact them through Facebook messenger, which is usually a very effective way of getting assistance.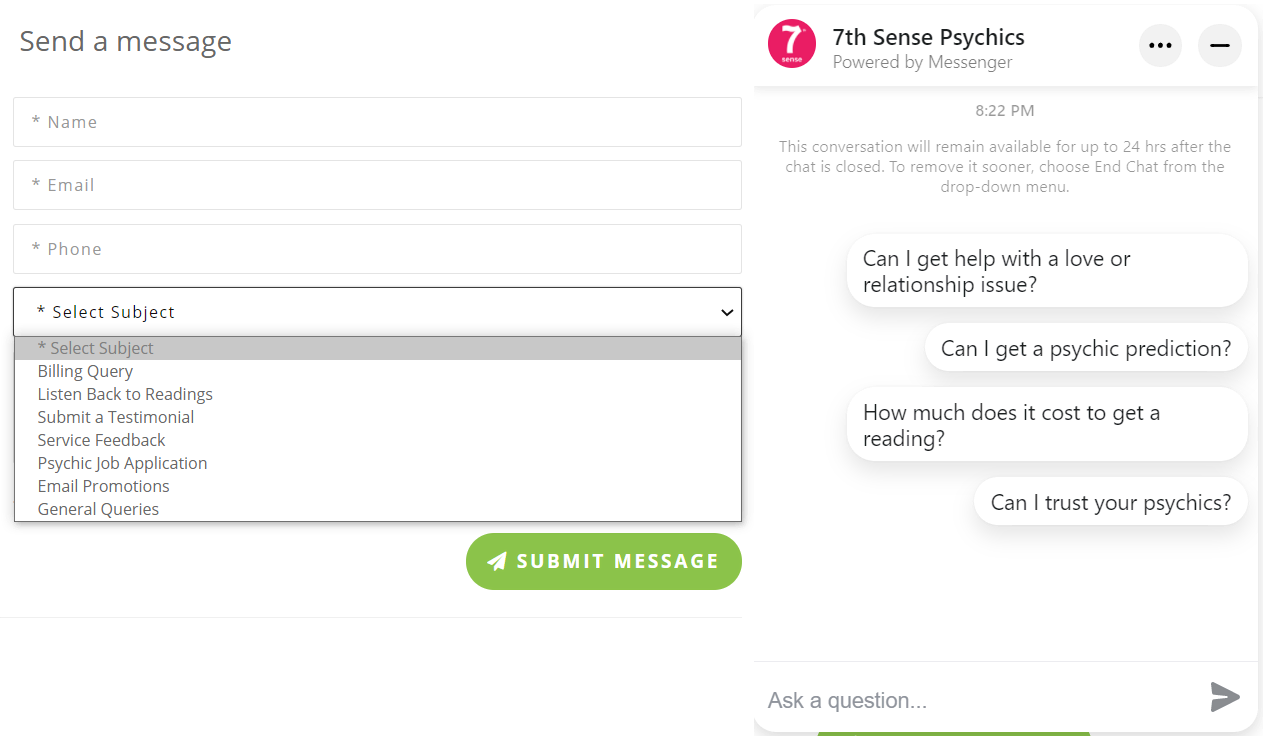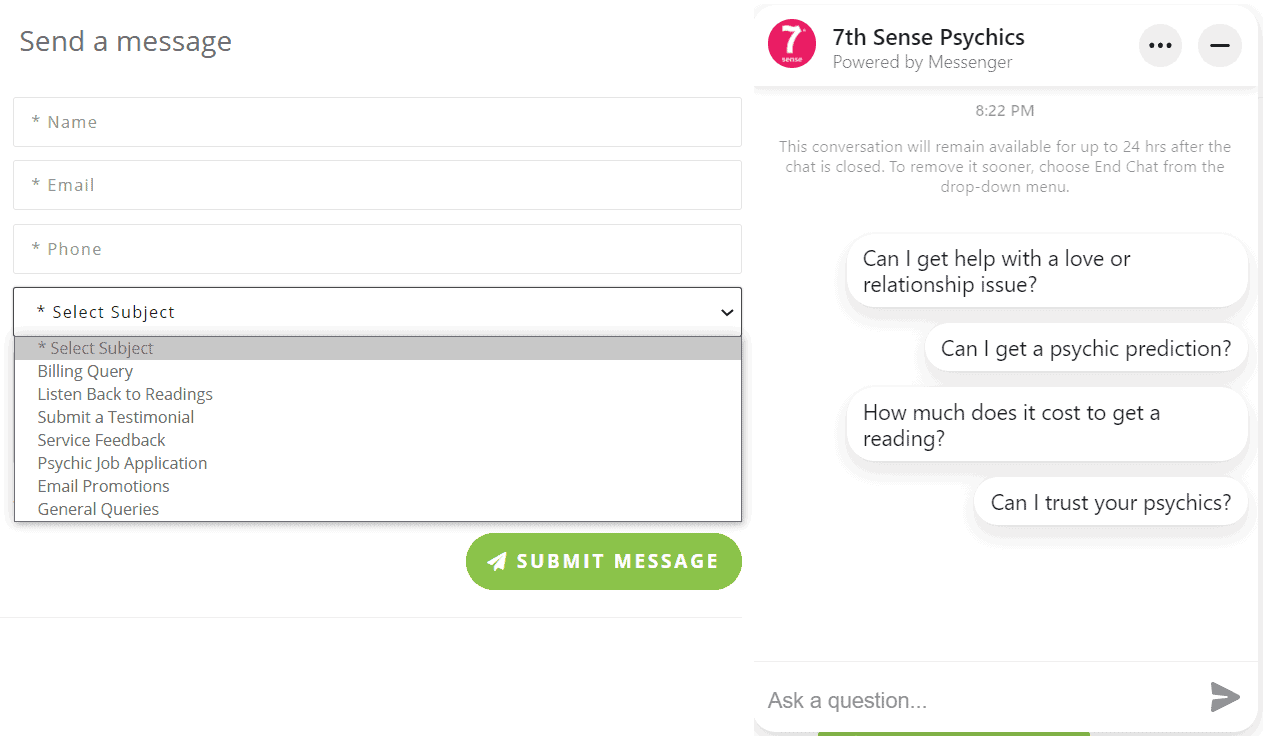 7th Sense Psychics Pricing
7th Sense's pricing policy is a bit different from its competitors, as it's divided into 4 tiers: regular, bronze, silver, and gold. The idea behind these tiers is that the more minutes you purchase on average every month, the less you pay per minute. Essentially, the system rewards its loyal customers. 
It's also important to note that you can't purchase a custom number of minutes. The packages you can buy are for 5, 10, 20, or 50 minutes. Given the tier structure, the most you'll pay per minute is $4.20 as a regular member, and the least you'll pay is $3.14 as a gold member.
Something I appreciate about 7th Sense's pricing model is that you only have to worry about purchasing minutes, and not about individual psychic rates. No matter which psychic you choose, you always pay the same per minute. There's no paying more for premium psychics, which means you're free to try as many different readers as you like.
When you first sign up with 7th Sense you can take advantage of their introductory offer of 7 minutes for $7.
7th Sense has two unique features that set it apart from its competitors. The first is Phoncasts, which gives you the option to listen to a real reading conducted between a client and advisor. Every week, 7th Sense posts a new one (with the permission of the parties involved), giving users the chance to see what a reading is like on the site.
For me, this was a great way of getting to know a psychic and experiencing their style, which helped me decide if I'd like to reach out to them as well. It's also worth mentioning that every reading you have through this site gets saved to your profile, so that you can go back and listen to them whenever you like.
The second unique feature is exclusive to the app, and is called Ask an Angel. This feature lets you send a question to a 7th Sense psychic therapist who will respond to you at any time of the day or night. This feature is really convenient if you're looking for an answer to a question, but your usual reader isn't available.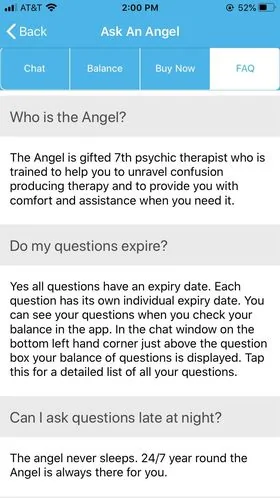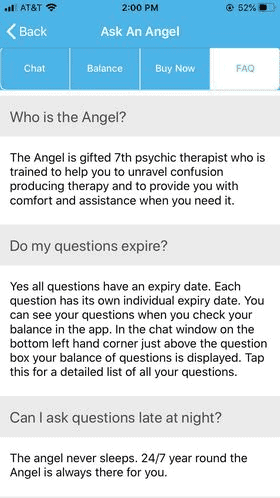 7th Sense Psychics isn't the most user friendly or dynamic psychic reading site out there. However, unlike its competitors, it has chosen to focus on doing one thing really well, instead of doing a lot of things mediocrely. If you prefer phone readings, then I definitely recommend checking out 7th Sense. These psychics are experienced in delivering phone readings and there are a number of experienced advisors to choose from.